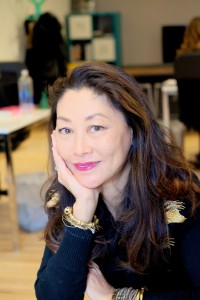 Linda Ong, CEO Truth Co.
Christina Marlene: Dear Linda, I got to know you through the "Women in Entertainment"   inaugural event at the Arclight movie theatre in Hollywood 2015 where you moderated a discussion round aimed at revealing daily issues of women in power.
What was your overall impression of this event? Do you share the optimistic view that the breaking point has been reached and numbers will start looking different for women in 2016?
Linda Ong (Truth Co.): I think events like this are important. At the same time, the industry needs to acknowledge larger cultural shifts that may affect how messages are heard by people with millennial sensibilities (even if they're not millennials). One of the challenges I called out in the last panel was the need for more outsiders (especially men) in the conversation. Of the 800+ attendees at Arclight, the overwhelming majority were women who were already deeply entrenched or interested in this conversation. To make change now, when women are increasingly aware and deploying their empowerment, we can't keep preaching to the choir. I think there were seven men in the audience.
CP: How do you look at wardrobe in an industry as particular as the entertainment business? Is the exterior still the main criteria for getting a job? How should a woman who doesn't want to subject herself to such scrutiny dress – and act? Is it even possible not to subject yourself to the exterior scrutiny of your body in entertainment and in society as a whole?
LO: The interesting thing about this "fourth wave" of feminism is that it's very conflicted…read more