Review
Tucker:  "I'd like to open an account."
Banker:  "Oh great, what kind of account do you have in mind?"
We hear the sound of a click.
Tucker: "This kind!"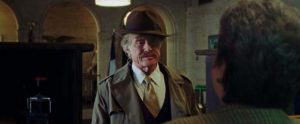 That's what this movie boils down to: an (old) man, Forrest Tucker, who escaped from St. Quentin at age 70 (true!) and likes to rob banks. A simple, straightforward, almost laid back plot, considering that this a crime genre.
A first-class cast starring Robert Redford in his said-to-be final performance (never say never?) together with Golden Globe winner Casey Affleck (Manchester by the Sea) who looks funny in his 1980ties wardrobe, makes old and new fans happy. A surprise performance by musician and member of "Lee Marvin's Son's Secret Society" (founded by Jim Jarmusch) Tom Waits whom The Classic Motion Picture knows best from Jarmusch's classic Down by Law. A nice innuendo for those who remember. And great performance by Danny Glover who completes the bank robber trio known as the 'Over-the-Hill-Gang.'
A portrait of a mixed racial marriage filled with love, which makes the overall atmosphere of the movie all the more realistic and enjoyable to watch (no, there is no conflict in this marriage between John Hunt (Casey Affleck), the cop who pursues Forrest Tucker, and his wife Maureen (Tika Sumpter). Just love.
Last but not least, a soundtrack by Daniel Hart, that sounds like something straight from Miles Davis, the perfect underscore to the love-based atmosphere.
What else? Nothing, maybe.
While this story is not the formula for a huge box office hit, it nonetheless is a special kind of treat for those who are no strangers to the names of Tom Waits, David Lowery, Casey Affleck, Danny Glover, and oldtimer, Robert Redford; and those who enjoy a bank being robbed by a gangster who looks and acts like a gentleman.
To go after the question of the use of his gun, we know that Forrest Tucker owns a weapon, as is clearly revealed when his girlfriend Jewel (Sissy Spacek), or just, the lady who he is dating, finds an old revolver in the glove compartment of his car. The glove-compartment. A total cliché, but where else would an old man put it? Forrest Tucker doesn't ever use it for a robbery. He merely shows it. Wow! How subtle.
In this laid-back production by Fox Searchlight of one of America's most popular genres, the crime genre, the title, The Old Man and the Gun, which alludes to Ernest Hemingway's The Old Man and the Sea for which Hemingway was awarded the Nobel Prize in Literature in 1954, could, therefore, also be seen as a comment on America's culture, its men, and what they seem to love most: guns.